A new name is emerging in the nascent spray foam insulation industry. Huntsman Building Solutions, part of the global chemicals giant, Huntsman Corporation, has been formed following the acquisition of three existing spray foam brands – Demilec, Lapolla and market leading UK and Republic of Ireland based system, Icynene.
The merging of these three brands under the Huntsman Building Solutions title creates an organisation designed to bring innovative solutions to the market which had principally offered only traditional forms of building insulants such as mineral wool and rigid board-type products.
Spray foam solutions differ from conventional insulation products in that they are applied only by specialist contractors using bespoke equipment not usually available to the general building industry.
Spray foam insulation is applied as a two-component mixture that comes together, forming a breathable foam that expands 100-fold within seconds of application, sealing all gaps, service holes and hard to reach spaces in a building.
Modern spray foams such as HBS Foam Lite use water as the blowing agent. This means that the reaction between the two components produces CO2 which causes the foam to expand. As the material expands, the cells of the foam burst and the CO2 is replaced by air.
This creates an open cell foam structure with a soft, yielding texture that provides outstanding insulating properties and lets the building breath naturally, resisting internal condensation.
Investment in UK manufacture and distribution
Huntsman's commitment to and planned investment in the UK market is substantial. Rather than importing raw material from their factories in Canada where the system was developed to cope with their extreme winter temperatures, products are now manufactured in a Huntsman facility in Kings Lynn, Norfolk.
According to Huntsman, this "on-shoring" of manufacture has a number of benefits: long distance transportation is eliminated with a big reduction in related carbon emissions, consistency of product availability is guaranteed, and a number of UK based jobs are created in an area where highly skilled employment hard to find.
UK Centre Of Excellence training facility
At the King's Lynn factory site, Huntsman has established what they describe as a Centre of Excellence , installer training facility – believed to be the first of its kind in the UK.
Here, we take a look behind the scenes and share in an introduction to the COE facilities by Iain Stanton, Managing Director, HIFS.
"A year or so ago, Huntsman saw a clear need for proper training programme for contractors working in the spay foam industry. Not just to ensure technical, environmental, health and safety compliance but importantly, to give end-user customer the confidence to choose spray foam insulation over traditional materials". Said Stanton.
Huntsman aims to promote Spray Foam Insulation as the insulation of choice through an extensive marketing and communication programme to educate consumers through press, media and online to explain the benefits of spray foam insulation and continue to train contractors to ensure high quality standards in the industry.
At HBS Centre Of Excellence, existing installation contractors as well as new teams looking to join the industry, go through a comprehensive training programme which leads to a "Certificate of Application Training" and Authorized Contractor status. Huntsman Building Solutions sees this resulting in formal NVQ status of a standard comparable with recognised trade qualifications similar to bricklaying, joinery, electrical and plumbing.
Iain Stanton was at pains to point out that, "Only by passing successfully through the HBS training programme will contractors become Authorized Huntsman Building Solutions Contractors and only then they will be allowed to buy HBS products." Clear commitment to raising standards and skill levels.
Reduce carbon emissions through better insulation
On a wider perspective, better insulation of domestic households is seen as one of the most important ways of reducing carbon emissions and slowing the effects of climate change.
A recent environmental audit, select committee report said that around 19 million UK homes are poorly insulated and that, unless urgent action is taken to improve energy efficiency of these homes, the UK will fail to meet its climate change commitments.
As over 60% of our current housing stock was built pre-1960 when little thought was given to heat-loss prevention, the challenge is significant and one which Huntsman recognises and is tackling through innovative insulation solutions.
Spray foam insulation is seen as a system that can make a real contribution to energy efficiencies and reducing environmental impact. Spray foam is a highly efficient insulation material that seeks out and seals the tiny voids and difficult to reach spaces that traditional insulation simply cannot.
Traditional insulation products also struggle to cope with small structural movements which can lead to air gaps and, when up to 40% of a building's heat loss caused by air leakage – draughts to you and me – an insulation system that works to prevent air leakage, effectively creating a breathable, sealed-box environment, is essential to minimise heat loss.
Build tight. Ventilate right
Huntsman's aim over the next few years is to promote the benefits of spray applied insulation in both new-build and retrofit applications promote best practice in spray foam insulation.
Their commitment is clear to see in onshore manufacture, market development and better training and compliance.
Better insulation, eliminating air leakage and the introduction of managed building ventilation. Long term goal with real environmental benefits. All neatly summed up in the HBS mantra, "Build tight, ventilate right"
For more information on Huntsman Building Solutions visit www.huntsmanbuildingsolutions.co.uk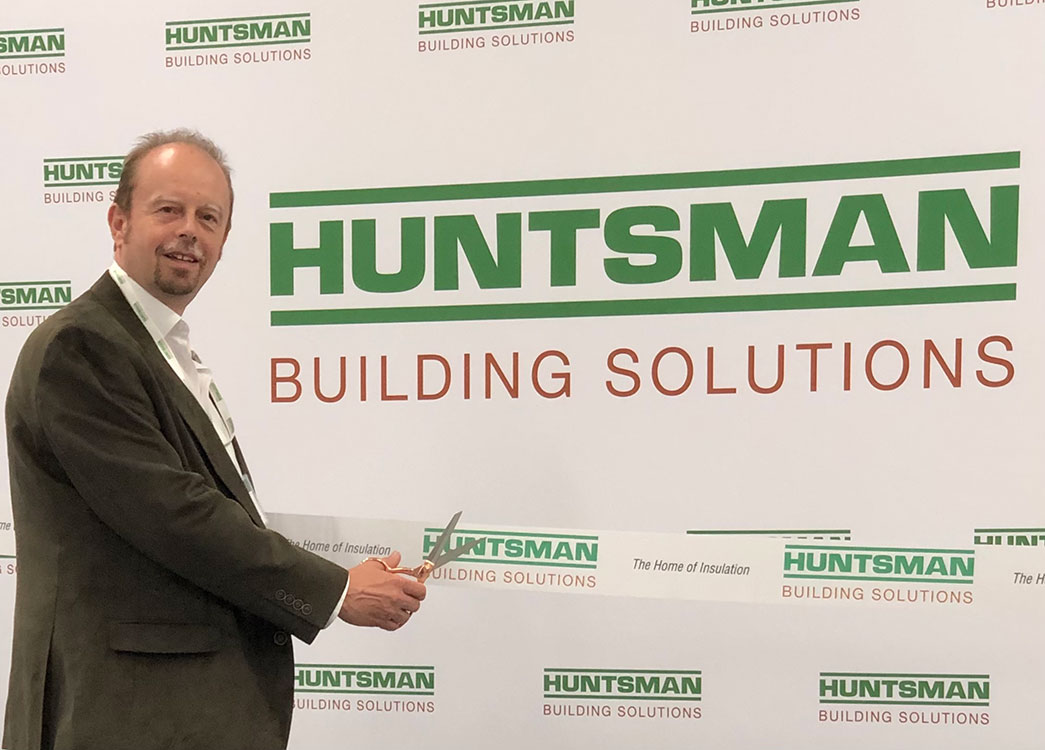 Simon Baker, President, Huntsman Building Solutions at the official opening of the King's Lynn Centre of Excellence:
"Our commitment to the UK is clear to see. By investing in onshore manufacture, we can eliminate transportation costs, cut damaging emissions and create valuable employment opportunities. Our new training facilities will raise industry standards and our insulation products will give the construction industry the high-performance tools it needs improve heat loss mitigation in buildings across the spectrum."