Nestling in a hilly forested area in Shizuoka, Japan, Phase Dance is an impressive architectural work by Takeshi Hirobe Architects. Duravit's presence in the unconventionally shaped weekend retreat appears in the form of a Vero washbasin. Vero was launched in 2001 and since then has found great popularity, especially among architects, thanks to its iconic rectangular character.
The sloping location posed a range of challenges – not least the question of how the building should be positioned on the site. To avoid an excessively large and deep foundation, a third of the floor space of the building was designed as an overhang, reducing the contact area with the ground. The basic structure from the basement to the ceiling of the second floor consists of reinforced concrete covered with wood.
Further, the architects noticed an orangebark stewartia tree during their site visit. Calculations taking account of building-spacing regulations and other restrictions indicated that the tree stood at the centre of the area in which construction was possible. They decided to leave the tree intact and to design the structure of the building around it – as a tribute to the importance of nature. While Takeshi Hirobe Architects understood the tree to be central point, they were careful to avoid a symmetrical design with uniform angles in order to create unique, generously sized rooms. With that in mind, the architects sought to lend each room a cosy and playful air. In the bathroom, the clear formal language of the Duravit washbasin from the Vero complete bathroom range blends perfectly into the overall ambience – as elegant as it is durable.
Large windows that follow the uneven contours of the walls afford expansive views of the green landscape and bring natural light into the interior. The upper floor serves as a library and reading area. It has the same floor plan as the lower floor and includes a triangular roof. Although the roof is subdivided into multiple sections, it gives the impression of being a single piece that covers the building.
During the continuous decision-making process, Takeshi Hirobe Architects likened their reactions to the various phases and aspects of the project to a dance – and dubbed the project "Phase Dance", inspired by the dynamics of the song of the same name by guitarist Pat Metheny.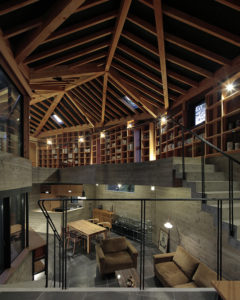 ©Koichi Torimura