Bringing our readers unique, high-value content is something which netMAGmedia is always investing in. As such, we have partnered with audience research firm Edge Insight to survey our readerships on key topics which matter to them. From offsite construction, to Passivhaus, to remote monitoring of social housing, our survey findings are captured in sponsored White Papers and circulated among our audiences to develop specific market knowledge.
Below are some of our recent White Papers. Please fill out the form below to sign up to our mailing list and download the full reports.
The Future of Tall Buildings - November 2021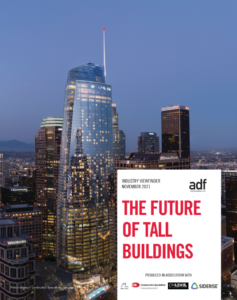 Do tall buildings have a future, in the context of Covid and climate change?
Designers of tall buildings sit at a crossroads – will such structures continue to be a major focus for investment in the difficult context that developers now face? What is the realistic case for widespread urban tall building development post-Covid, in a world struggling to tackle climate change?
ADF and Edge Insight surveyed architects to find out their views on the future of tall buildings, homing in on some of the key factors which were facing architects looking at tall buildings design in the coming years.
One of the most impactful recent changes which looks set to continue is the move to an emphasis on mixed use rather than purely commercial space in a post-pandemic future. According to most survey respondents, tall buildings would be 'predominantly mixed use' in future, continuing the current trend in many cities across the globe.
The Grenfell tragedy has further compromised traditional approaches to tall buildings design in the UK, giving a wake-up call to the industry to remedy failings in the supply chain.
With other issues including China severely restricting tall building design, there are clear challenges for architects in this sector, many of whom are British professionals working overseas. ADF's survey contains revealing findings on this key construction issue.
Click here to sign up for the full report.
Exploring Current Thinking on Passivhaus - May 2021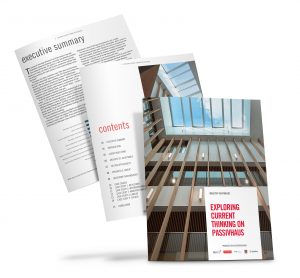 Passivhaus is largely accepted by architects as an effective means of drastically reducing emissions in a range of building types, and therefore as an important weapon in the battle to reach the Government's net zero target by 2050. But what about the wider supply chain, and clients? What accounts for the relatively poor takeup of Passivhaus in the UK compared with other countries, and what are the remaining stigmas and misconceptions around Passivhaus that need to be addressed?
Our survey of architects reveals designers' real-world experiences of Passivhaus design, how it fits within the current procurement agenda, and what the remaining challenges are to the wider takeup hoped for by many. The White Paper is therefore essential reading for anyone interested in designers' current perceptions on Passivhaus in the UK.
Click here to sign up for the full report
Exploring Current Thinking in Offsite Construction - November 2020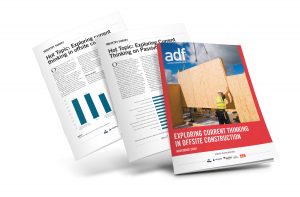 Offsite construction is hailed as the answer to the construction industry's most pressing problems, including speed of delivery, the 'performance gap' in quality, and an increasing skills shortage. With the Government having set a goal of 300,000 new homes per year, fast and efficient offsite construction is not just a business benefit for clients, it has become a political imperative. 
The survey of architects we conducted with Edge Insight demonstrated the design challenges posed by the rise of offsite construction, such as greater standardisation, but also the benefits for architects, from a more rigorous focus on build quality in projects, to enhanced collaboration. The views and experiences of design professionals in the sector captured in the White Paper provide illuminating findings for anyone involved in promoting or developing offsite construction.